Hi everyone
I finally had time to finish the mat for my 1st sew along with Ros from
Sew Delicious
!
You can find part 1 of my journey
here
.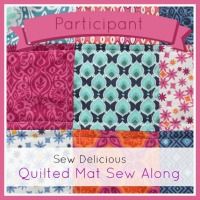 Yes, it is a little late...but its done :)
I have to say, I'm not 100% happy with the finished product, this has nothing to do with Ros's tutorial...it has everything to do with my sewing skills! This is the 1st time I've tried to use bias binding in any project, and I have to say...I suck at it - and I'm just a little embarrassed to show you the finished product too :P
I also wish I had spent more time thinking logically how I was going to go about using the bias binding around the tab prior to going ahead and doing it.

As I'm making a car mat for my little monsters birthday, I made some adjustments to Ros's tutorial. My mat has a tab (with a snaps to close the mat when all rolled up), this needed to have the binding around it. As I didn't think too carefully about how I was going to do this before actually doing it, I really don't think I chose to do it in the best way possible...and now I'm stuck with it, lol.
First I cut 2 short peices of bias binding to match the bias binding being used in the project.
I then sewed the bias binding onto the mat as per Ros's instructions
here
.
When I got to the tab section I cut the binding diagonally, like this
The I pinned and stitched the small peices of the matching binding over the top of the gap, like this
Once I'd finished I noticed that my binding hadn't been stitched so that it was properly secured on the backside (I forgot to take a photo of this though sorry!) - this was definitely due to my inexperience of working with bias binding, you can really tell that this is the 1st time I'd ever done it in the photos your about to see :P
I decided that the easiest way to make sure that I managed to catch all the bias binding edges on the back side of the mat, was to zig zag stich the whole way around the edge of the mat; like this

Here are some photos of the finished mat
As I mentioned earlier, I'm not really happy with the finished product, and I think next time (if I was to make this again -
hind sight is wonderful hey?!
), I would:
1. quilt the top and the wadding together,
2. then sew the backing layer and pockets together,
3. then with the front and back fabrics facing each other I would sew them together leaving an opening to turn,
4. snip the corners and then turn,
5. top stich the full way around the edge of the mat to finish.
It would give the mat a much neater look and I wouldn't have to use any bias binging - bonus! As I don't think I'll be using any more any time soon if I can avoid it :P
Overall I had a great time learning to quilt with this small project. I am already planing more quilting projects for the future (just ones that hopefully don't involve binding, lol).
I hope you enjoyed going on this journey with me :)
Emma