Hi everyone
Selfish sewing week is going quite well for me...so here is an update :)
(This event is being run by
imagine gnats
and
made with moxie
).
I have finished my 1st item...a ruffled apron using
this pattern
, which I downloaded free during the saw-along (which I originally wanted to join, but I had too much going on with the little monster and his birthday).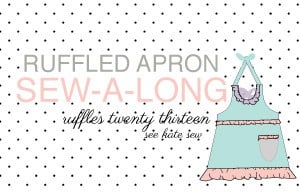 I sat down to start sewing the apron and 30min in...my machine decided she needed a clean :P
Then after sewing faster than the speed of light...
It was finished...
(I'll be writing another another post about this apron shortly).
Then it was time to move onto my next item, but it was so hard to choose!
I asked on
Facebook
and
Instagram
what everyone thought I should make...most people wanted me to try the
pleated tote
- so hopefully I get around to trying that one-day soon!
I ended up deciding on an iPhone wallet :) But I couldn't find a pattern or tutorial that included all the features I wanted, so I had a look around the web...
And started drafting my own pattern. But then, my current wallet broke (luckily just before I cut out the fabric)...so instead I purchased and downloaded
this pattern
...
I chose my fabrics and started cutting...
To Be Continued...
:D
Emma