Hello :)
Being semi-new to sewing (did you know I've only been sewing for about 2.5 years?) I am only just beginning to discover the online sewing (and handmade) community. I have started to join in with
swaps
that others are running, and this week I've been joining in on my 1st sew along with Ros from
Sew Delicious
!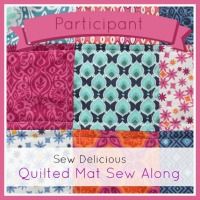 I have decided to follow Ros' tutorial and adapt it...you will see what I mean if you decide to keep reading :P
The 1st step was to choose my fabric. I decided to go with a car theme (you will see why in a little bit)...so I searched in my stash and found the above fabrics. The majority were purchased from spotlight and unfortunately they don't have the name of the fabric or the designers name printed on the selvedge's :(
The fabric on the right however was purchased from a fellow crafter (when she was de-stashing) last year...and it still had the selvedge, so I am able to let you all know what it is - "City Streets" by Jamie Wood.
The next step was to sew the top of the mat together (instructions are found
here
).
Then came the tricky part...and now you finally get to find out what the extra piece of fabric is for (and how I adapted the mat)...
On my to do
list
(that I wrote the other day), I stated that I wanted to make my little monster a
travel car mat
for his birthday in September. So I decided to adapt Ros's quilted mat into a quilted travel car mat!
To do this I first read carefully through Ros's travel car mat tutorial and then I adjusted the size of her fabric for the car pockets so that it would fit and work with the
measurements of the quilted mat
.
I sewed the pocket fabric onto the mat backing fabric and created pockets for the cars (I used the same measurement as in the travel car mat tutorial to create each pocket).
Here is a picture of the prepared backing:
I then basted the mat top to my batting and stitched only the bottom 3rd so that the mat looked like this:
I then basted the mat back, with the car pockets positioned on the bottom - where the mat has already been quilted - to the rest of the already basted mat top.
I then stitched the rest of the mat, being careful not to go over the sections I had already stitched.
Here is a picture of the quilted mat so far:
Mat top

Mat bottom
This is where I'm up to...I have to wait until tomorrow for the rest of the steps to finish this mat.
This means you will also have to wait for me to have time to finish this project off after the last tutorial is released :)
Hope you have enjoyed my journey so far :)
Emma